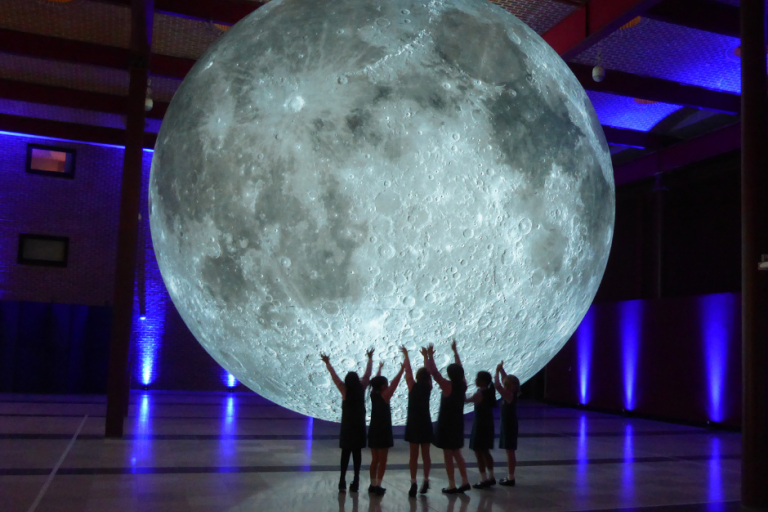 Barnstaple is set to become the celestial centrepiece of North Devon this December, as the "Museum of the Moon", a captivating artwork by UK artist Luke Jerram, lands in the newly regenerated Barnstaple Pannier Market. The event is fully funded, making it accessible and inclusive for everyone and is an exciting opportunity to witness a masterpiece of art and science.
The "Museum of the Moon" is a testament to human creativity, showcasing the boundless imagination of Luke Jerram. This remarkable creation measures an impressive seven meters in diameter and showcases NASA's high-resolution lunar imagery in stunning detail. At a scale of approximately 1:500,000, every centimetre of this internally lit spherical sculpture represents 5 kilometres of the moon's enigmatic surface, allowing visitors to embark on an incredible journey to our closest celestial neighbour.
Developed with an enchanting glow of moonlight, the artwork is accompanied by a mesmerising surround sound, created by BAFTA and Ivor Novello award-winning composer, Dan Jones.
The exhibition will run from 16 December until 6 January and will be accessible daily from 10:00am to 8:00pm. Admission is free, but reservations via See Tickets are essential to ensure a seamless and enjoyable experience. 
Leader of North Devon Council, Councillor Ian Roome, says: "Jerram's most successful projects is "Museum of the Moon" so I'm overjoyed that it's coming to North Devon. So far, it has been presented in different ways, more than 300 times in 30 different countries and has been experienced by more than 20 million people worldwide!

"This iconic artwork offers a golden opportunity for both residents and visitors alike to witness something truly exceptional and unique in Barnstaple. I would encourage you to book your timeslot as soon as possible to avoid the disappointment of missing out."
Volunteers are being asked to come forward to assist with the invigilation of this event. Those interested in being part of the exciting experience are being asked to contact Culturevolunteers@northdevon.gov.uk.
Additional programme of enriching ticketed activity and events by the light Luke Jerram's Moon to include Silent Disco with, Rest and De-stress meditation session and much more. To stay up-to-date, keep an eye on the market's Facebook page. 
Co-commissioned by a number of creative organisations brought together by Luke Jerram and Norfolk & Norwich Festival. These include: Greenwich+Docklands International Festival, Brighton Festival, Without Walls, Cork Midsummer Festival, We The Curious, Lakes Alive, Provincial Domain Dommelhof, Les Tombées de la Nuit, Rennes  and Kimmel Center for the Performing Arts. The artwork has also been created in partnership with the UK Space Agency, University of Bristol and The Association for Science and Discovery Centres.
This opportunity was made possible, thanks to funding from the Cultural Development Fund. This fund has been administered by Arts Council England on behalf of the Department for Digital, Culture, Media, and Sport. More information on the fund can be found online.