Welcome to North Devon Council
In memory of The Duke of Edinburgh, Prince Philip
10/06/1921 - 09/04/2021
It is with great sadness that we have received the news of the passing of The Duke of Edinburgh, Prince Philip.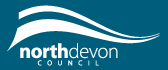 Information alerts
Covid business support grants
Please visit our business support page for more information on what grants are available. Including information about the new Restart Grants.
Coronavirus support for individuals
Please contact our community support hub if you need support and don't have any help from friends, family or neighbours.
Covid-19 testing and alert level
Waste and recycling alert
There is a waste and recycling alert currently in force. Please check details on our Waste and recycling page.