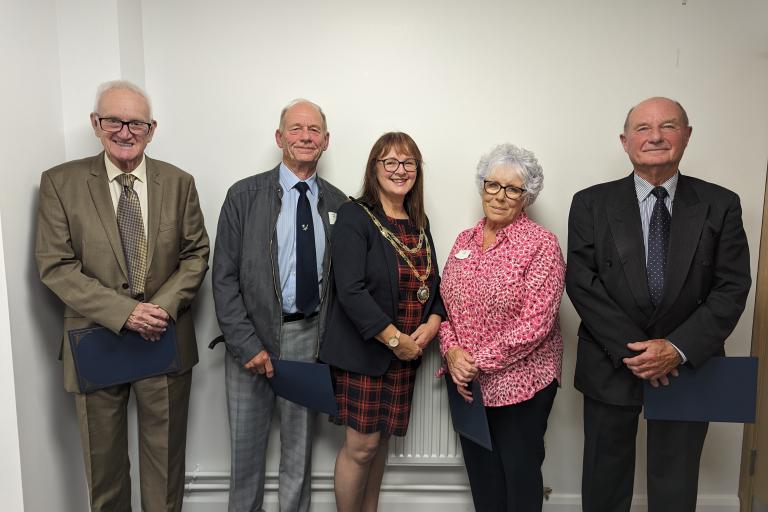 Four former North Devon councillors have been honoured for their services to the council and community.
Geoffrey Fowler, Yvette Gubb, Derrick Spear and Joe Tucker were each appointed as an Honorary Alderman at a special full council meeting on Wednesday, 4 October. It comes after all four retired at the last district council elections.
The four have clocked up a combined 92 years serving as district councillors in their respective wards.
Geoffrey Fowler was first elected to the council in 1999 and was chairman of the council from 2013 to 2014. Described as 'Mr Ilfracombe' by fellow members, he chaired the town's harbour and regeneration boards while representing the Ilfracombe West ward.
Yvette Gubb was first elected in 1995 and chaired the council from 2003 until 2005. She represented the Combe Martin ward throughout her 28 years on the council, sitting on the parish council in that time too.
Derrick Spear was first elected to the district council in 1991, serving the council for 20 years in that time. He represented Braunton East at district level and represented the village at all three levels of local government. 
Joe Tucker spent 20 years serving the district, having been first elected in 2003. He was vice-chair of the council from 2021 until 2023. Representing the Marwood ward, he campaigned staunchly for more social housing in rural communities.
The extraordinary council meeting saw each presented with a certificate by council chair, Councillor Julie Hunt.
Chair of North Devon Council, Councillor Julie Hunt, says: "It is an honour to be able to appoint these four former councillors as honorary aldermen and alderwomen.  Their length of service on the council speaks volumes to their loyalty and dedication in representing their respective wards, the people and communities who live in them, and North Devon as a whole.

"All four of them have been incredibly hard working and are well respected, and their experience and expertise will be missed, but it is a pleasure to recognise their service with these appointments."
The quartet join three existing Honorary Aldermen. Michael Edmunds, Des Brailey and Faye Webber were appointed in 2019.