Volunteers thanked for tree planting contribution
13 February 2023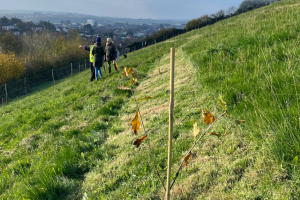 5,000 new trees have been planted at Yeo Valley Woodland, since their launch event in December, thanks to the efforts of over 500 school pupils and 200 volunteers.
In July of last year, North Devon Council released plans to expand Yeo Valley Woodland by planting 24,000 new trees which will link the three existing woodlands together, thanks to a successful Forestry Commission's England Woodland Creation Offer.
Community tree planting volunteer dates were scheduled over December and January, with a final event taking place on Sunday 19 February.  
Lead Member for the Environment at North Devon Council, Cllr Netti Pearson, says: "I would like to start by saying a big thank you to those who gave up their time to help expand this very special community woodland. It has been great to see so many people from across the local community joining in with the efforts.

"We are coming to the end of our volunteer days now, however, I would encourage as many people to come along, one final time, before our gardening staff and contractors plant the remainder.

"You're welcome to plant one tree or stay for the day. There's no need to book, just turn up!"

Lead Member for Climate Change, Councillor Graham Lofthouse, says: "Trees play a vital role in absorbing carbon dioxide from the atmosphere. They help us to reduce local carbon emissions and so I would encourage as many people as possible to come along to our final tree planting volunteer day at Yeo Valley Woodland. We must work together to tackle climate change in our community and this is a great opportunity to take a step in that direction."
Those wishing to attend the final tree planting volunteer day, which takes place between 10am and 3pm, are encouraged to park considerately and enter via the lane by the Kingdom Hall on Derby Road. Individuals should also wear suitable clothing for the weather conditions and stout footwear. 
To show your interest in the event, individuals are encouraged to follow the Facebook event.  
To stay up-to-date on the progress of the woodland and other council news, please follow the council's social channels.