Torridge and North Devon Councils ask residents to support national Clean Air Day
10 June 2022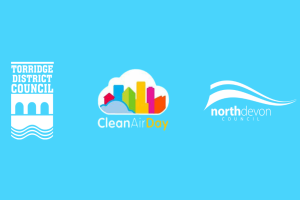 Torridge and North Devon councils have announced their support for the Clean Air Day – Day of action on 16th June. The latest release from the charity behind the event, global action plan, has highlighted that air pollution causes up to 36,000 deaths in the UK leading the World Health Organisation and the UK Government to recognise air pollution as the largest environmental health risk we face today. Now in its sixth year the idea behind the annual event is to ask everyone to act together on a single day, to focus attention on the issue and contribute to cleaner surroundings through action. It asks people to commit to small changes that collectively can make a huge difference to air quality and the environment.
Research shows that 82% of people think that air pollution should be a priority for the UK, an increase of 11% over the last three years. The organisers want to build on that momentum and continue to find ways to improve air quality across the UK.
The theme for this year's campaign is: "Air pollution dirties every organ in your body. Take steps to improve your health this Clean Air Day." It focuses on the damaging effect air pollution has on our bodies and how it contributes to chronic illness ranging from lung and heart disease to dementia and strokes.
Torridge and North Devon Councils are asking everyone to take two simple actions on Clean Air Day:
think before you get into your car, can you walk, cycle or even scooter to your destination instead?
If you must use your car, switch off your engine when stationary – saving fuel and money and reducing air pollution.
The charity has produced a whole collection of ideas and events for individuals, schools and businesses to organise, advertise and take part in – see the website https://www.actionforcleanair.org.uk/campaigns/clean-air-day
Councillor Graham Lofthouse - Lead Member for Climate Change at North Devon Council says:

"Make this the beginning of your way to help; you, your community and all our children breath healthier air. Always drive smoothly and switch off when queueing."

Councillor Peter Hames - Lead Member for Climate Change at Torridge District Council said:

"We hope that this campaign will bring a renewed focus to the issue of air quality and inspire people to make changes to their lifestyles to help reduce the impact of poor air quality. Car idling for example has been estimated to produce enough CO2 and other pollutants to fill around 150 balloons per minute and twice as many exhaust emissions as when a car is in motion. Air pollution is the biggest environmental threat to our health, no matter who you are or where you live. Join us in supporting the campaign on the 16th June and check out the Clean Air Website for lots of other ways to get involved."