Barnstaple taxis and alcohol licensed premises reveal high standards
05 December 2022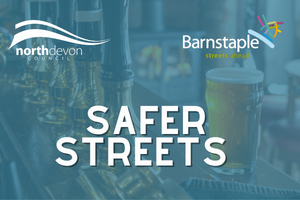 As part of 'Safer Barnstaple', an initiative funded by The Home Office, in the fourth round of its Safer Streets Fund, a mystery shopper exercise for Barnstaple's taxis and night-time economy enforcement evening for Barnstaple's alcohol licensed premises has taken place and revealed high standards. 
The first exercise which was conducted in late October focused on examining the standard of taxi and private hire drivers. Thirty-five test purchases were undertaken with almost all highlighted to be of a high standard with only one driver not using their meter. After investigation, the individual received communication from North Devon Council by way of an official warning. This will lead to enforcement action for any future non-compliance. That aside, the report stated that drivers were found to be courteous, friendly and knowledgeable with vehicles in good and clean condition. Those conducting the exercise revealed that they were impressed by the North Devon taxi and private hire service and that the vast majority of taxis were good quality with professional drivers, both in the day and into the early hours.  
Public Protection Manager at North Devon Council, Katy Nicholls says: "This exercise was the first dedicated taxi and private hire mystery shopping activity undertaken by North Devon Council. The fact that the North Devon taxi and private hire trade impressed mystery shoppers is something to be celebrated, it conveys a positive message to those using the trade."
A second exercise which was conducted in late November, also as part of 'Safer Barnstaple', focused on the night time economy. 
The councils licensing enforcement officers, in partnership with the Devon and Cornwall Police, undertook an enforcement evening where they examined ten licensed alcohol and entertainment premises in the town centre.
Fifteen taxis were also inspected, having been drawn from plying from hire, in circulation, or from taxi ranks.
Officers noted a high standard of compliance with associated licensing legislation and the councils Hackney Carriage and Private Hire Licensing Policy.
One vehicle was issued an advisory notice in respect of a tyre at the legal limit. This was promptly actioned by the driver and evidence was provided to the council of a new tyre having been fitted. On the whole, the initiative highlighted a positive situation in the town centre whereby vehicles were all licensed; to a safe and clean standard; taxi meters were adequately fitted; drivers were licensed and wearing their licence badges.
Licensed premises visited by the Police were also shown to be operating to high standard, and in line with licence conditions. All premises were given 'Drugs Will Not Be Tolerated' and 'No Excuse' Drink Drive posters as part of the night's activities.
Chair of the Licensing and Community Safety Committee at North Devon Council, Cllr Louisa York says: "I am pleased that the late night enforcement evening revealed a high level of compliance in the town centre. Taxis and private hire vehicles are a vital part of our community. Taking people away from the town centre promptly and safely is key, and this positive message is reassuring to those wishing to take a taxi or private hire vehicle both day and night. Moreover, this result combined with the high standards noted at those alcohol-licensed premises visited as part of the enforcement evening provides additional reassurance, namely that the trade, working in partnership with the police and council working hard to provide a safe environment for those residing in and visiting the town centre."
To stay up-to-date with council news, please follow their social channels.