Garden waste collection update from North Devon Council
17 January 2023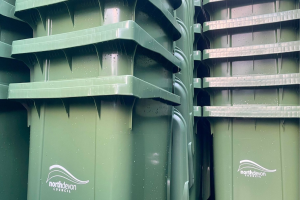 The cost of subscribing to have your garden waste collected in the North Devon district will rise in April 2023, councillors have agreed.
North Devon Council has approved an increase in the charge for collecting garden waste to ensure the full costs are met by those receiving the service and that residents that do not have a garden waste collection are not contributing to the service through their council tax.
The new subscription charge will be £55 per year per bin, which equates to an increase of just 40 pence per collection.
Lead Member for Environment at North Devon Council, Councillor Netti Pearson, says: "We have had to increase the price of the optional garden collection service due to inflation and other associated service cost rises. The new charge is now in line with many other authorities.

"The increase will take the cost of having the garden bin emptied every two weeks from the beginning of February until the end of November and every four weeks during December and January, to £2.20 per collection. I still believe for this to be great value for a convenient, eco-friendly service."
The garden wheelie bin can be used to dispose of:
Real Christmas trees - chopped up
Bark
Hedge clippings
Grass cuttings
Weeds
Cut flowers
Plants (no soil)
Windfalls
Untreated sawdust
Wood shavings
Clean straw
To sign up to the council's garden waste service, please visit their website.
For more information on the garden waste collection service, residents can visit the council's website.
To stay up-to-date with council news, residents are encouraged to follow their social channels.