Appeal for support for Ukrainian refugees in northern Devon
08 February 2023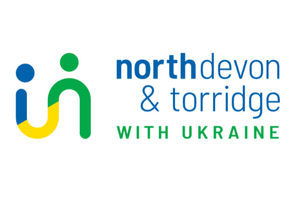 The Pickwell Foundation, together with North Devon and Torridge Councils, are calling on residents to offer support to Ukrainians who have fled war in their home country. 
Devon-based charity, The Pickwell Foundation works locally to provide assistance to refugees and asylum seekers, including offering support to Ukrainians and their sponsors in northern Devon through the Homes for Ukraine scheme. Together with the local district councils, Pickwell is appealing to residents to help them grow their list of sponsors in the area.
Pickwell is asking the community to help identify additional properties and potential hosts through a number of routes, including:
supporters who've not already welcomed a Ukrainian guest, but have previously considered the possibility
appealing to existing sponsors, supporters and partners to ask their own in social circles/community if they can offer a property or supported lodgings
asking landlords of previous holiday rentals to consider hosting Ukrainians instead
The Pickwell Foundation's Team Lead, Susannah Baker said: "The war in Ukraine is showing no immediate signs of resolution, the crisis continues to ravish the country, its beautiful people and culture. Thousands of Ukrainians are still needing safe passage and sanctuary here in the UK.

"The scheme will be hitting its year milestone in February. This means that guests who have been staying with those who cannot carry on past their six-month commitment are having to move to a new sponsor or into 'Private Rental' accommodation. It is therefore so important that we continue the momentum of building up our Sponsor register, especially as we look for re-matching opportunities."

Leader of North Devon Council, Councillor David Worden said: "Over the last 12 months, our wonderful community has welcomed 313 guests into the North Devon and Torridge area, under the Homes for Ukraine scheme, and many through the family scheme that proceeded it. We are extremely grateful to the individuals who opened their hearts and doors to support those displaced by the horrific situation in Ukraine. It is vitally important that we continue showing this same warm welcome and humanitarian aid so that individuals and families impacted by this war still have a place of safety and sanctuary at an extraordinarily challenging time. If you are able to help, either personally or by spreading the word, please do so."

Leader of Torridge District Council, Councillor Ken James said: "I believe the communities across our district can be proud of how they have come together in recent years to demonstrate support for those seeking refuge from Ukraine. It's heart-warming to see residents across Torridge and North Devon offering their homes to help the people of Ukraine. I am glad our councils can work with Pickwell to aid people whose lives have been changed immeasurably by this war. If you can provide help or assistance, please don't hesitate to contact Pickwell."
Residents or landlords with any questions or offers should email rematching@northdevonwithukraine.co.uk or call 07951914829 where there is a dedicated advisor on hand to offer support. 
A new section has been added to Pickwell's website containing advice for hosts and guests after the six month committment. Go to www.northdevonwithukraine.co.uk and select "Post Six Months" from the menu. Resources are being updated regularly.