Mortehoe Pavilion to receive council funding for improvements
10 March 2022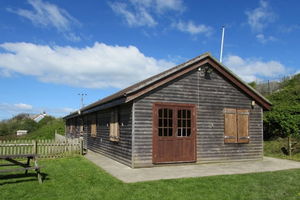 Thanks to a funding boost of £3,175 from North Devon Council, the pavilion at Meadow Playing Field is set to get some improvements.
At a meeting of the Strategy and Resources Committee on Monday 7 March, councillors agreed to allocate the money from developer contributions, which will be used to help improve the community facility which serves both Morethoe and Woolacombe.
Situated alongside the village playing field, the pavillion provides a small community hall, changing room and toilets. Woolacombe Football Club operate from the site, as well as hosting local groups and clubs such as the Pilates and Toddler sessions.
The current wooden window shutters on the pavilion were installed over 30 years ago as a temporary measure to help protect the building from the harsh coastal weather. However, the shutters are no longer fit for purpose from a
security point of view.
Mortehoe Parish Council intend to install metal grill bars across all of the windows of the pavilion to secure the building and also improve the aesthetics of the building given its age.
Leader of North Devon Council, Councillor David Worden, says: "By working with parish councils to identify specific needs in their parish, this type of project enables the council to provide the funding for the amenities which benefit our communities the most.
Local ward member for Mortehoe ward, Councillor Malcolm Wilkinson, says: "The Pavilion provides a great facility for sports groups, the playgroup and primary school. Mortehoe Parish Council is keen to extend the range of functions and activities on the Meadow. A much welcomed and used skateboard ramp was installed 12 months ago and it really is necessary to upgrade the quality of the Pavilion for further uses."
Under Section 106 of the Town and Country Planning Act 1990, contributions can be sought from developers towards the costs of providing extra community and social infrastructure as a result of the impact of a new development in the area. These contributions can only be used for certain things, and are used primarily for public open space projects.